This page is no longer maintained and is deprecated in favor of on-server information.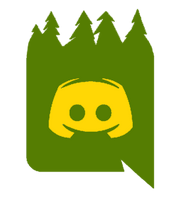 Click here to join!
Originally created for wiki staff purposes, the Camp Camp Wikia's Discord has expanded and opened for everyone. It acts as a replacement for our old wiki chat. It opened to the public the evening of June 22, 2017.
Members only need a Discord account to join.
See our rules section for the Discord's "scout oath".
Channels
Text Channels
Listed are the publicly available channels. Channels grayed out aren't visible by default, but are otherwise available to all users.
Category
Channel
Topic
Welcome & Information
#scout-law
Take the scout's oath with honor! Read up on these rules and follow them to heart.
#sleepy-peak-times
Hot off the presses! Announcements concerning the Discord, the wiki, and Camp Camp itself.
#bus-dropoff
Did you just join our camp against your will? Great! Introduce yourself here!
Campgrounds
(General Topics)
#mess-hall &
#messy-hall
General discussion and random chatter. It's a mess alright.
#laserdisc
(AKA #camp-camp)
Dedicated channel for Camp Camp discussion (...and shipping). Except the latest and greatest episode (see #cool-kidz below).

#cool-kidz

(opt-in)
(Closed during hiatus)
Spoiler discussion on the latest episode for the Rooster Teeth FIRST cool kidz out there. You can opt into this channel by chatting "t!sar get first" in #neilspiel.
#millenia-wars
Memes and spam galore. War, it never ends...
#campfire
Gather 'round the campfire and share your favorite Camp Camp original content.
In the Woodlands
(Special Topics)
#ampitheatre
For all of them theater campers to roleplay as their Camp Camp OCs. The roleplay is moderated by our Discord's

@Playwrights

and is governed by its own set of rules.

#backstage

The "out of character" channel for #ampitheater roleplay participants. This channel is automatically shown to those participating in the RP.
#games-grove
Video games!
#otaku-tent
Anime trash~
#real-talk
Use this channel for anything you wish to vent out, or for taboo discussion that may edge on violating our rules. Please avoid using #mess-hall to vent.
#neilspiel
Mess around with our Discord's bots here. See the bots section for more details.
Voice Channels
Channel
Topic

#mind-freak-voice-weak

Voice chat text channel where you go to get yards of fabric shoved through your vocal chords for the sake of science AND magic.

This channel is automagically shown as soon as you enter a voice chat channel (and is invisible to everyone else).

💬 Flagpole
Stand at attention! ...And then go here for general voice chatting.
🎹 Ampitheatre
Share music using our music bot (see "Bots" below) at the Ampitheatre. (Music only, no voice.)
🔥 Campfire Songs!
Know some campfire songs? Sing it out with fellow campers. (Similar to Ampitheatre, but with voice enabled. Use the music bot.)
Roles
Staff Roles
@Counselors

– The wiki's counselors. They have full reign of the server, for the most part.

@Camp Committee

– The wiki's bureaucrats. They have full access to the server and full administrative permissions.

@Cult Leaders

– The wiki's discussion moderators. They are responsible for the wiki's social dealings, such as the Discord. Contact them for moderation issues.

@Mages

– The wiki's chat moderators. They solely moderate our Discord.

@Quartermasters

– The wiki's content moderators. They are responsible for the wiki's content, but do not have much control in the Discord.

@Camp Staff

– The "catch all" for the Discord's upper moderation staff.
All roles listed above can be pinged. (Please be mindful to not abuse role mentions. AKA Rule #5.)
Camper Roles
These roles are self-assignable by using a command through NeilBot. You may only be a member of one of these roles at a time.
| | | |
| --- | --- | --- |
| @Adventure Campers | @Art Campers | @Robotics Campers |
| @Science Campers | @Space Campers | @Theater Campers |
| @Magic Campers | @Other Magic Campers | More to come! |
These roles serve no functional purpose, other than giving your name a purty color on the Discord.
Auxiliary Staff Roles
These are special Discord staff roles with specialized permissions:
@Bus Drivers

– The wiki's rollbacks. They are trusted editors that supervise the wiki's contributions, but do not have any control in the Discord itself (other than access to #police-scanner, our wiki activity log channel, and other internal chat channels).

@Playwrights

– Moderators of our #ampitheatre and #backstage roleplay channels. They manage the roleplay, and develop and enforce the roleplay guidelines. Playwrights may be pinged.

@Camp Planner

– Coordinators that help plan out server-wide and/or wiki events and announce them in #sleepy-peak-times.
These users do not have full Discord staff permissions, and cannot be pinged through
@Camp Staff
.
Rules
Please refer to the rules listed on the Discord server.
Sanctions and Contesting Bans
Possible sanctions are not listed here and are issued at the discretion of the acting moderator and/or moderation team.
To contest a chat ban, you will need to contact a discussion moderator on their message wall on the wiki.
Bots
Our Discord runs bots! The following bots are in use:
Name
Description
Command docs
Tatsumaki
(AKA "Animu Nikki")
Earn EXP and gain rep in a cross-server ecosystem!
t!help
FredBoat
(AKA "S.V. Woodscout")
Play music in our Ampitheatre and Campfire Songs channels.
;;commands
Marv
(AKA "Jermy")
-help
Gaius Cicereius
(AKA "Nerris' Magic Amulet")
Used for moderation, roles, and custom commands.
!cmds
!camproles