This article is a stub. Please help out the Camp Camp Wiki by expanding it.

The Counselors' Cabin is the official setting for the counselors of Camp Campbell to stay in during the summer.
Appearance
The Counselors' Cabin is an actual cabin with a sign lodged atop the entrance labeled "COUNSELORS". The inside consists of David and Gwen's beds on each side of the cabin along with several posters of different movies. Beside Gwen's bed is a wooden desk with both their "#1" and "#2 Counselor" mugs, a handful of books on a mini book stand, and several erotic magazines belonging to Gwen. On David's side of the room, he hangs his "Memories" bulletin board with pictures of several events seen in various episodes. Beside both of their beds are their drawers with their gadgets occasionally charging on top of them.
Trivia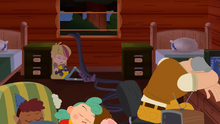 David's top drawer is labeled "David" while his bottom drawer being labeled "Knee High Socks" whereas Gwen's top drawer is labeled "Gwen" with the bottom drawer labeled "STAY OUT!!!", respectively.
Both counselors own mugs labeled "#1 Counselor and "#2 Counselor." With the "#1 Counselor" mug belonging to David while the "#2 Counselor" mug belonging to Gwen.
During David and Gwen's free time, they watch Rob Boss on their old style T.V. while sitting on their respective couches as seen in "Mind Freakers".

With David's couch having lighter and darker shades of green stripes.
and with Gwen's couch being a dark blue.

In contrast to David, who only has one gadget, his phone. Gwen is shown to own a laptop, an iPad, and a cellphone that were seen charging in the background.
Gwen's side of the room also consists of her laundry hamper at the foot of her bed along with the countless of novels and magazines that she reads dumped under her bed as revealed in "Gwen Gets a Job."
In "The Fun-Raiser", the cabin has a new poster put up that has The Rock on it.

The counselors have also been shown to have put up a small bulletin board labeled "Small Victories" which includes letters from Nurf and Nerris' parents on the events of "Parents' Day", as well as a contested traffic ticket, a note that says "Do Not Read This" by the Quartermaster, along with a poster that keeps record of the times wherein they have caught Max smiling. (A total of 1.5 times, with the 0.5 being a smirk).