"
Guess that goes to show that sometimes, the only thing scarier than monsters and ghosts...is real life. Specifically old people having sex. Weird, kinky sex in a dungeon. Boy, that is...that is some dark shit.
"
This article is a stub. Please help out the Camp Camp Wikia by expanding it.
"Journey to Spooky Island" is the 5th episode of the first season of Camp Camp and is the 5th episode overall.
Official Synopsis
"
After a suspicious Quartermaster warns them not to, Max, Neil, and Nikki venture out to the mysterious Spooky Island to hunt for ghosts, but the kids get more than they bargained for.
"
Plot
David attempts to tell the campers a scary campfire story, only to bore others as they roast marshmallows. Various other "scary" stories told next prove that Max is "unscareable" since he is able to use logic to see through everything. As the Quartermaster scares them, he decides, along with David and Gwen, to take Space Kid to get shots for possible rabies. Curious about Quartermaster's attempts to keep them away from Spooky Island, Neil and Nikki aspire to meet a ghost or the secret the Quartermaster is hiding. Max, Nikki, and Neil take a boat to Spooky Island and soon run into Jasper. As they go deeper into the forest, they find Cameron Campbell's old summer home. As they enter and they try to turn the light on, they activate a secret switch in the library and find a lab, to Neil's happiness. When Max flicks on the lights, it can be seen that various unsettling experiment specimens are in jars. As Nikki sees a trail of blood and hair leading to a basement, she is unsettled to find bloody tools and walls, declaring she doesn't want to be there. As Max, in another attempt to prove he isn't scared and that there are no such things as monsters, he discovers the real reason the Quartermaster was so eager to keep him out: it's a sex dungeon and he's hosting an orgy full of old people having kinky sex. A scarred Max, Neil and Nikki are taken back to Camp and, in a twist, Jasper, the camper they encountered in the island, disappears, revealing he was a ghost the entire time.
Features
Main Characters
Supporting Characters
Minor Characters
Location
Objects
Camp Campbell boat
Quartermaster's dildo hook
"Fuck the Police" rock
Nikki's pocket thermin
stuffed bears
Music
Trivia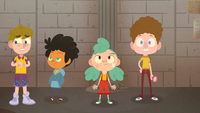 Various hints throughout the episode foreshadow Jasper's reveal at the end of the episode as a ghost:

According to Quartermaster, since it is the new moon, ghosts walk the island.
Jasper speaks in dated terminology and wears an equally outdated clothing style.
Jasper's reason for being happy that Max, Neil and David are on the island is that he believed they are there to stop "the evil". It's possible that "the evil" killed him and he was trying to solve his unfinished business.
Jasper lacking a shadow for the entirety of the episode.[1]

It's revealed Cameron Campbell has an old summer home on the island. The catapulted boulder from "Mascot" is briefly seen in front of it.
The credits state that the friendly pirate kids are voiced by animators Yssa Badiola, Gil Calceta, and Andrew Lhotsky.
Cultural References
Continuity
Errors
The boat that the trio used to travel to Spooky Island becomes a motorboat by the time Quartermaster used it to take them back to the camp.
Gwen is not seen standing beside David after he becomes frightened after assuming that Pirate Camp was actually a ghost ship sailing through the night. But she is then seen standing beside him after the Quartermaster snuck up behind them. She disappears again after they all scream at the Quartermaster.
Transcript
The transcript for "Journey to Spooky Island" may be edited here.
Max: What's scary is how much I want to kill myself right now.  
Max: So help me if this involves vampire romance.  
Gwen: I-it could've been werewolves.  
Space Kid: ...So nothing scares you, Max?  
Max: People in sheets got me concerned,  
Space Kid: What about space ghosts-eh... oh-that's strange  
Max: Might've help if I hadn't put it in his suit to begin with.  
Max: Pssh, it's just teenagers from that church camp working on those repressions again.  
David: AHHHH, what about that ghost ship?  
Max: Pirate camp's practicing night sailing.  
Quartermaster: What the blue ball blazes is happenin' here?  
David: Oh! Whew! Hey, Quartermaster.  
Quartermaster: Someun' out here killin' campers?  
Quartermaster: So... no dead campers then?  
David: What? No, of course not!  
Quartermaster: Not even on the night of the new moon, right?  
Quartermaster: ...What's with space case?  
Nikki: ...You think he's hiding something?  
Nikki: *Gasp!* Maybe it was the ghost he was talking about!  
Max: Pssh, ghosts don't exist.  
Nikki: HOW DO YOU KNOW? YOU'VE NEVER DIED!  
Neil: Hey! That's a magazine about Science!  
Nikki: Alright, Spook-hunters!  
Nikki: Do we actually have a detective team name now?  
Nikki: HEY! Do you know how hard it is to find a good pocket theremin?!  
Neil: >Oh my god, you have to get in here quick!<  
Max: There is no such thing as monsters!  
QM: I WARNED YEEEEEOOOOUUUUU, CHIIIILLLDD!!!!!!  
Max: . . . AAAAAAAAAHHHHHHHHH!!!!!!!!!!  
*Grumble* QM: Ruined my night. Probably next one too.  
Jasper: Guess that goes to show that sometimes, the only thing scarier than monsters and ghosts...  
Gallery
Main article: Journey to Spooky Island/Gallery
References