This article is a stub. Please help out the Camp Camp Wiki by expanding it.
Larry, otherwise known by his given title Larry the Hamster, was the mascot of Camp Campbell before his death.
Appearance
Larry the Hamster is an average-sized hamster with a marmalade-colored coat and a honey belly.
Death
Main article: Mascot (episode)
Larry's death was presumed when he was hit and then launched by a flying boulder from Max's catapult into spooky island. When the new successor mascot was being decided, he was discovered to have survived the landing's impact after swimming ashore – but was promptly eaten by the new mascot, an aggressive platypus.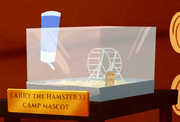 Trivia
The table on which Larry's cage was situated includes a plaque giving Larry the title Larry the Hamster XI.

Assuming the average lifespan of a hamster is 3 years, and assuming that Larry's lineage started in Camp Campbell, it may be assumed that the camp is around 30 to 33 years old.[conjecture]