This article is a stub. Please help out the Camp Camp Wikia by expanding it.
Lee Meredith Eddy is the voice actress of Gwen. Outside of Camp Camp, she voices Lex from Day 5, Four Seven Niner from Red vs. Blue, and Chovros from Red vs. Blue: Singularity. She's also had small roles in Sex Swing and Nomad of Nowhere.
Trivia
She has two children, being pregnant with the younger one while Season 1 was still in production.
Media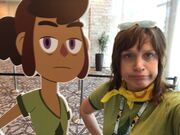 Community content is available under
CC-BY-SA
unless otherwise noted.